The Epic Duck Nest at Winona, Companion page
First of all, for those who happened here by accident, the place to start is goecaching.com, then click "getting started" to learn what the game is and how it works.
For the rest, thank you for your interest in my now-archived cache, GC1H626, the Epic Duck Nest at Winona.
When it was active, the Epic was a six-stage multi, spread over a three mile hike (six-mile round trip) in the rugged back woods of Winona State Forest near Sandy Creek, NY. The stages included one fire-tack stage, one rain guage stage, one compass use stage, and one stage that was up a tree and had to be lowered by rope. One other stage, and the final, were straight forward hides
If you read the cache page, you will learn that the first six stages each contained a clue to a puzzle, whose solution led to the final. Here are those clues:
A letter from a sailor home to his family:
Dear Mom & Dad,
Greetings from aboard the Oswego! I miss you all so much while out at sea, especially old Buster. He'll always be a puppy to me. Give him an extra ear scratch from me. I can't wait for the rest of my year-long cruise and be able to spend a month at home. Mean while, we've made a liberty call at Port Winona, and Captain Vandergroot gave us some shore leave. I spent all day in town yesterday with my buddy JT. Don't worry, Mom, we only had a few beers and didn't create any trouble. Well, not much.
There's another Navy ship, a sub, tied up across the bay, so I snapped this photo- pretty cool, huh?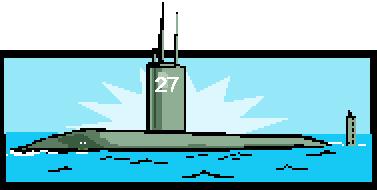 Hey, Dad, when I get home, I'll have to show you some of the techniques we use to maintain the big engine on the ship. Then maybe we'll get your old Massey-Ferguson tractor running again. Again, I can't wait. Until then,
Love,
Bill Chapman
Machinist Mate 3rd Class
Local Newspaper article:
Tanager to Call at Winona
by Amy Beckman, Staff Writer
Residents of the bay vicinity will be getting a special treat soon. At max tide tomorrow at about 10:42 am, the aircraft carrier Tanager is scheduled to transit the channel and then to dock at Port Winona by noon. Her commanding officer,
Capt. Stan Grandpré, in an interview by ship-to-shore phone, stated, "The Tanager and her crew thank the people of Winona for the warm welcome, and we look forward to your hospitality and enjoying the sights of your community, during our brief port
call." On a lighter note, he went on to say, "I also look forward to catching up with my old academy classmate, Capt. Gary Manion, and to beat him at chess aboard his own ship, the Rattlesnake, which luckily will be in port at the same time."
"Encyclopedia of Big Fictitious Ships" entry for Muskellunge:
Namesake:
The muskellunge is a large freshwater fish of North America, the largest member of the pike family.
Class:
Nuclear Ballistic Missile Submarine
Length:
842 feet
Beam:
93 feet
Draft:
26 feet
Propulsion:
Single Mk 137 Reactor, powering a 2800 s.h.p. electric turbine engine
Built:
Winona Shipbuilding and Dry Dock Corporation
Keel laid:
September 9, 1999
Completed:
July 12, 2001
Commissioned:
July 29, 2001 by Mrs. Ernestine Zimmerman
Current C.O.:
Captain Frederick Bertrand
Complement:
17 Officers, 43 Crew
Noteworthy Accomplishments: Earned Meritorious Unit Commendation along with Rattlesnake for operations in the Southeast Asian theatre.
An End-of-Shift Report from Port of Winona Dockmaster:
Arrivals
Owner
Time
CV-42 Tanager
Navy
1157
Freighter Collette's Tower
Smith Freight
1718
Departures
Owner
Time
Oiler Hillcourt
Northern Petroleum
1420
Carry-Overs
Owner
FF-78 Rattlesnake
Navy
Oiler Boyce
Northern Petroleum
Oiler Seton
Northern Petroleum
Other notes: Received memo from Navy to prepare additional dockage area for cruiser Oswego to call next week.
An excerpt from the Frigate Rattlesnake's Log during the training exercise called 'Epic Cacher:'
24 April
1502: Arrived at assigned patrol zone for 'Epic Cacher.'
1617: Radar contact reported bearing 291° range 12 Nm.
1619: Radar contact identified as simulated enemy vessel CL-67.
1623: Simulated Harpoon missile launch against CL-67.
1626: Computer indicated hit upon CL-67. Score one for us underdogs!
1700: Capt. Chet Vandergroot of CL-67 sends acknowledgement and congrats (promises to buy drinks).
1727: Now "dead" CL-67 departs training area.
And now for an Epic Spoiler, here is the solution:
The submarine is Muskellunge, Hull Number SS-27, Capt. Frederick Bertrand
The Carrier is Tanager, Hull number CV-42, Capt. Stan Granpré
The Frigate is Rattlesnake, Hull Number FF-78, Capt. Gary Manion
The Cruiser is Oswego, Hull Number CL-67, Capt. Chet VanderGroot
Final cache coordinates are (were) 43° 42.742 N by 075° 57.867 W
This cache had many good log entries written, especially the online version. For those who found this cache and feel a little need for nostalgia, I have scanned in the log book and put it into a PDF document here (about 3 MB PDF download).
Finally, I repeat my challenge to the Northern New York Geocaching community: replace this cache. Great ones like this, the Adirondack Murder Mystery (GCP8MW), Puzzle of Oneida Lake (GCZGAA), Sam's Ball Breaker (GCGC6F), Woody and Friends (GCVD6Y), and others of the ilk are too few and far between, and rapidly dying out. Also, while I would hate to see Winona become cache-dense, as of today it is too cache-sparse. Let's get this changing.